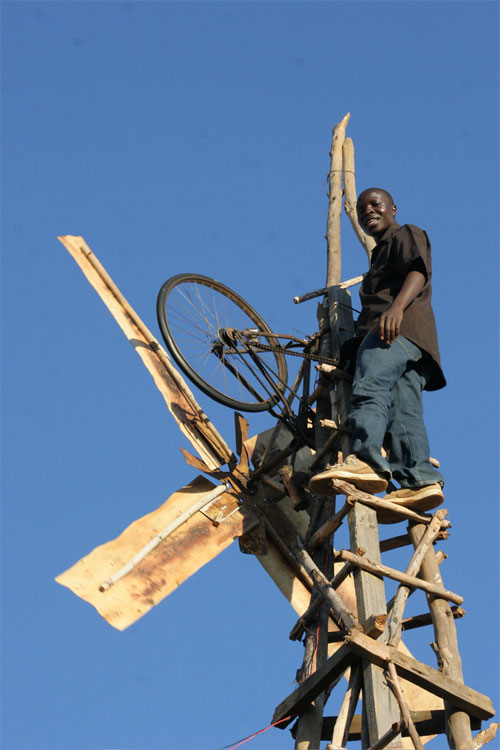 I have just finished reading the book "the boy who harnessed the wind" and I have to say that I am deeply inspired and impressed.
The book tells the true story of a William Kamkwamba, a young African boy who built a Windmill.
He grew up in Malawi, his father was a farmer and they had literally now money. During a 5 month hunger crisis, William and his family almost starved to death. They couldn't afford sending him to school so one day he decided to visit the local library. There, he found books that fascinated him; books that explained physics, electronics and science. During one of his visits, he discovered a book that showed a windmill farm and he had a dream: if he could build a windmill that could generate enough electricity to operate a water-pump, his family could harvest twice as many crops and would never have to be afraid of starvation again.
So he went out, with no money, with knowledge he learned from books, with no help – to build the first windmill in his village. And he succeeded!
His journey has long continued beyond the windmill – he spoke at the famous TED conference (see below) and he is now applying to the best schools. His new vision is to bring energy to his whole country.
William's story made me think:
We, that we are living in Austria (or in Western Europe for that matter), have access to so much knowledge, so much material goods, so much safety, so much money.
Why is it that with all these resources, it is so hard for us to follow our dreams? Why is it that we, that have so much are mainly occupied to gain more? Why is it, that it is so hard for us to see how we could make a difference? When all this was possible for a young African boy who couldn't afford going to school which would have cost 5 EUR per year?
What is it that is needed? More money? More support? More safety? More …?
I have a theory, but I would like to hear what you think. Please post your thoughts here: http://www.facebook.com/hubvienna/posts/133798670042713
I am looking forward to hearing your thoughts,
Matthias
Here is William's talk at TED 2009: